PAMPANGA | TeFunYaki Dinner at The Souq
Friday, December 12, 2014
Twilight was almost upon us as we alighted from our van for the last stop of our tour. The day has been filled with the Giant Lanterns of Pampanga interspersed with Kapampangan dishes generously spread in between. We thought we've seen and tasted everything until we visited San Fernando City's The Souq.
Translated from Arabic, the word souq means marketplace. And from the central alley that traverses the restaurant, the name suits the place quite well. The concept, our host said, was to incorporate various mini-restaurants along both sides of the alleyway.
►BOOK DISCOUNTED TOURS IN SUBIC & CLARK
As of the moment, they have three mini-restaurants in operation. One of them is the Vietkong Restaurant, which serves cuisines from China, Korea, Thailand, and of course, Vietnam. The interior has a very colonial Saigon feel to it. They also have the Street Food 99 which serves grilled dishes that goes well with alcohol. And lastly, the TeFunYaki Japanese restaurant, which serves, what else, but teppanyaki.
►FLY OUT: VIETNAM TRAVEL GUIDE
Aside from those, The Souq plans to open other mini-restaurants inside the compound, they even intend to put up a salon and a clothing store within the grounds. The last time I checked their Facebook page, I found that they now have a line of dishes called Jalan Alor, which I suppose are comprised of Malaysian dishes.
►CHECK OUT: JALAN ALOR FOOD STREET
While waiting for our meals to be served at the Tefunyaki restaurant, I got to check out The Souq's grounds. And man, it is huge. The numerous rooms and gardens are done quite tastefully, thanks in part to the proprietors being also the owners of Betis Crafts Guagua. In fact, one can even buy furniture in the restaurants.
After watching the chef show off his cooking skills on the iron griddle, our teppanyaki (₱180.00) was finally ready. Together with plates of tofu, salad, and stripped zucchini, the main plate of steamed water spinach, bean sprouts, java rice, and tender beef were served along our table. The size was totally humongous—I was actually trying to solve in my head how I would finish everything off.
►CHECK FOR AFFORDABLE HOTELS IN SAN FERNANDO
The Souq is definitely not your usual Kapampangan restaurant; it serves delectable and exotic Asian cuisines on an environment that can rival the best interior design spaces out there. It's a worthy enough stop even just for its interiors and gardens—the food, a delightful bonus, of course.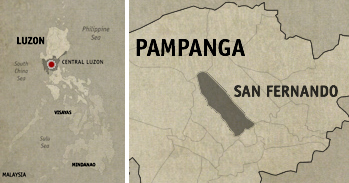 The Souq Pampanga
Address: Lazatin Boulevard, Dolores Homesite, San Fernando, Pampanga
Contact Number: (045) 409-7728 | (0925) 827-2730 | Facebook
Opening Hours: 10:00AM to 10:00PM
GPS Coordinates Map: 15.040491, 120.672552
• BOOK TRANSPORTATION TO AND FROM PAMPANGA ONLINE •