In between visiting the giant lantern makers in San Fernando City, we also visited numerous restaurants where we lunched, snacked, and snacked some more. And yes, we do have an excuse for our food binge; Pampanga's title of being the Culinary Capital of the Philippines. We're uncovering the province's little gems, one plate (or two) at a time.
One of the interesting places we visited was Susie's Cuisine. Located at an air-conditioned building along MacArthur highway, you wouldn't really think much of it. At first glance, it looks like any ordinary restaurant, that is until servings of their famous pancit luglug and tibok-tibok were plunked right in front of us.
Susie's Cuisine has been serving Kapampangans since the early seventies. They started out as a small carinderia and have now grown to fourteen branches in different provinces. They specialize in pancit luglug, a type of noodles with an atsuete-based sauce, and local kakanins.
Pancit luglug is very similar to Pancit Malabon, the only difference I can see is that the former has lesser seafood toppings than the latter. I hail from Malabon, so I wasn't really that excited about the dish, knowing we have better ones in my hometown, especially those being sold at Norma's Pancit Luglug.
My first mouthful was a big surprise though; Susie's pancit luglug (Php60.00) rocks. The sauce is made just right, not overpoweringly strong, with the toppings and the hard-boiled egg complimenting the noodles. Even with the current state of my tummy, which was still full from lunch, I unbelievably finished everything in record time.
For dessert, a slice of tibok-tibok (Php22.00) was laid on our table. It looks similar to Malabon's maja blanca but is made from carabao milk. The soft, almost gelatinous slice is topped by a sprinkle of latik. They said that Susie's Cuisine sells 300 trays of this daily, and I can definitely see (or taste) why. It is better than any maja blanca I've ever had.
To ease everything down, we were served a bottle of their buko pandan juice, which everyone is raving about. It is indeed refreshing as it says on its label, but I found it to be quite average; good, but nothing to write home my momma about.
Checking Susie's Cuisine's menu, I found an okoy that would probably rival those in the markets of Malabon. The thing is just packed with shrimps and was about an inch thick! I haven't seen okoys like these, but it was just too bad that we were so incredibly full that I wasn't able to try it.
For a kid who grew up in Malabon, Susie's Cuisine is a happy place. They have pancit luglug, they have maja blanca and they even have okoy! I mean, these are the food that I grew up with! And not only are they available in Pampanga, they're serving some pretty good versions of them too.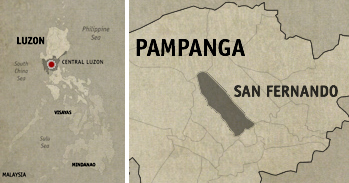 Susie's Cuisine
Address: MacArthur Highway, San Fernando,
              Pampanga
Contact Number: (045) 888-0577
Open Hours: 7:00am to 7:00pm
Menu: Click Here

GPS Coordinates Map: 15°02'30.3"N 120°40'36.9"E
---