Can you imagine quality restaurant cuisine being served at a fraction of the price? This restaurant located at Barangay San Vicente in Tarlac City does so. No, they're not on sale, nor are they closing up; that's just how they price their servings. And they do it every single day of the week.

Welcome to Primadeli Ristorante, one of Tarlac City's best kept gastronomic secret.
This open-aired fine-dining restaurant started serving Tarlaqueños with their Sicilian-inspired cuisines two years ago. The kitchen crew is orchestrated by Chef James, the very hands-on restaurant owner, who whips a fusion of Italian dishes mixed with Western and Asian flavors.
There is a degree of intimidation when ordinary people like me hear the word fine dining. It often connotes business suits and multi-set dinner courses with different cubiertos for each; complicated eating rituals and decorum only understood by the rich.

But all of this cannot be more untrue with Primadeli Ristorante. Here, the atmosphere is so relaxed you can even eat with just your slippers, shorts and shirts. A fine dining experience made for every Juan as they say.

But enough talk, let's get down to business and check out their offerings.
Shiitake (Php99.00)
Crème soup flavored with Japanese mushroom, topped with bacon bits and croutons.
Julius Caesar (Php109.00)
Cajun chicken strips wrapped with lettuce and stuffed with carrots and tomato. Topped with bacon and ranch dressing.
Beef Nacho Grande (Php199.00)
Corn chips topped with beef grande, tomato salsa and melted quezo.
Marinara Seafood Pasta (Php199.00)
Penne pasta sautéed with shrimp, squid and mussels. Topped with Italian tomato sauce.
Chicken Pesto (Ph159.00)
Grilled spiced chicken strips with cheese sauce. Served with pesto and pasta.
Texas Ribs in Mustard and Barbecue Sauce (Php499.00)
Smoked, braised and chargrilled beef short ribs with Texas-style barbecue sauce platter. Good for sharing.
Vietnamese Spring Rolls (Php165.00)
Fried shrimp and pork with vermicelli and vegetables wrapped with pastry. Served with dipping sauce.
Goat Rendang (Php288.00)
Malaysian-inspired goat stew with coconut and spices. Good for sharing.
Paella Valenciana (Php420.00)
Spanish rice dish with shrimps, mussels and calamari. Flavored with rich broth, vegetables and meat cutlets. Serving is good for four persons.
Chicken Lemon Grass Rosemary (Can't find this on their menu)
Slow-roasted chicken flavored with citrus and garlic. Served with rosemary-flavored brown sauce.
I can do away with the pastas and the spring rolls; but my favorites include the shiitake soup, the caesar salad and the beef nacho grande. The ribs are highly recommended for those who love that kind of dish, but I'm more of a steak person.

My top pick would be their goat rendang. I've tried a few rendangs before in Marawi City, Singapore and Kuala Lumpur, but I've never had one made from goat. It was surprisingly tender and didn't have that cloying goaty taste associated with this kind of meat.

I have nothing but praises for Primadeli Ristorante. The serving sizes were generous, the presentation is impeccable, and the price was unbelievably low for such dishes. And most importantly, the flavor and taste of almost everything I tried is really good.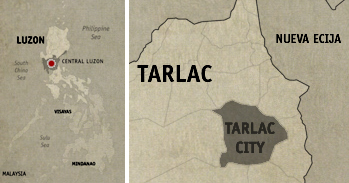 Primadeli Ristorante
Address: Southern Bypass Road, Brgy. San Vicente, Tarlac City, Tarlac
Contact Number: (0923) 340-3761
Email: karljamesmallari@gmail.com
Facebook Fanpage: Click Here
Menu: Click Here
Open Hours:
Everyday from 11:00AM - 12:00MN
GPS Coordinates: 15°28'28.3"N 120°35'31.4"E
---