TARLAC | Go Kart Racing at Kart City Tarlac
Sunday, May 20, 2012
The flag was waved and I pushed the gas of my go kart as hard as I can. Hard right, full throttle forward, an s-curve, hard left and a looping right curve; the wind was whipping hard through the open kart, everything's a blur and my adrenaline was pumping high. Welcome to Kart City Tarlac!

The Lakbay Norte crew was welcomed by Mr. Pio Arugay, one of KCT's brainchild and he immediately led us to their videoke room.

Kart City's fame is not limited to high-speed chases; they also serve a mean panizza. It's basically a thin crust pizza sliced into strips that you then roll into bite-sized balls. We never minded that we're still full from our lunch at Matutina's Seafood, KCT panizzas (and regular pizzas as well) are simply superb.
While munching on their delicious pizzas, we were then briefed on our karting session. It was gonna be a relay rally. The Lakbay Norte team was grouped into four with each member doing at least ten minutes around the circuit. The team with the most number of laps wins the game.

Everyone donned their racing helmets and were off in a blur. The track is straightforward enough for new go karters but not too simple to be a bore for those who have been into the sport for quite a while. I love the adrenaline of pushing the gas pedal to the max, flying off the asphalt and overtaking a fellow racer.

I'm not sure how many laps I did, but it obviously wasn't enough. The flag was waved and it was over; much too soon in my opinion as I wanted to race some more!

To douse our speed addiction we were again herded back to the videoke room where a buffet table greeted us. The TV was turned on, the songbook opened and the mic passed around. Crispy fried chickens, sinful crispy patas, egg-ridden pancit canton, and squid with veggies filled our plates while beer bottles were uncapped and the videoke blasted on.
The night went on as almost everyone had their chance in belting out their favorite tunes in synch with the revving of go karts outside the window. The alcohol I'm sure contributed to the evening's fun atmosphere. Kart City Tarlac is not only for the adrenaline addicts but for food junkies as well.

+   +   +    U  P  D  A  T  E     2  0  1  4   +   +   +
I recently went back to Kart City Tarlac for the Microtel Luisita Tara Quin Tarlac Tour. KCT is still located on the same hidden spot across the big SM in town. We visited during the evenings but the changes in the place are still quite evident even with just the dim lights on.
The first thing I noticed was the al fresco area of Kart City Tarlac. It definitely looked much nicer, organized and less crowded with seats than I remembered it to be.
And the videoke room where we had our snack during our Lakbay Norte tour, it really looked more posh than my last visit. The area was very vibrant, the furnishing was still well-kept and the food were as good as I remembered it to be.

I haven't tried their fried chicken before, and we were served buckets this time. It was so good that we were tempted to grab the left-over servings from our friends at the other table haha.
While their food remained excellent, there have been some modifications on the kart racing area. According to Mr. Pio, one of Kart City Tarlac's head honcho, the trickier parts of the track has been modified to eliminate accidents that might occur with less experienced drivers.

Well, I got to ride KCT's karts once more and I barely noticed the modifications they made. It was still an excellent track and it still got my blood pumping the whole time.
And like our previous KCT visit, after the race, everyone was herded back to the function room. The videoke was started and plates of food were slid down our table. It was such a fun return visit that we even got to play Pinoy Henyo with Mr. Pio himself!

Hands down, I have to say that Kart City Tarlac is still one of the most fun places to visit when in Tarlac.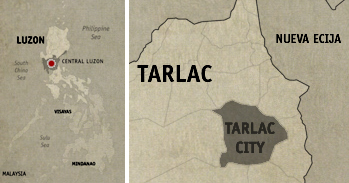 Kart City Tarlac
Address: MacArthur Highway, San Roque, Tarlac City
Contact Number: (045) 491-4053
Open Hours: Mon-Fri 3:00PM to 12:00AM 
                   Sat-Sun 10:00AM to 2:00AM
Rates: Php120.00 for 5 Laps | Php200.00 for 10 Laps
Facebook Fanpage: Click Here
GPS Coordinates: 15°28'40.4"N 120°35'46.2"E